An Evening with An Artist
Join us for an intimate evening with the artists who shape Chamber Dance Project's distinctive profile. Each event in the series combines presentations, performances, conversation with audience members, and interactive elements that make the company's work come alive in fresh and exciting ways. Dancers, musicians, and choreographers discuss and deconstruct elements of Chamber Dance Project's repertory, offer insights into their professional lives and creative processes, and share previews of the company's latest works. Afterward, a light wine-and-cheese reception brings everyone together to continue the enjoyable exploration.
All evenings include a reception with the Artist and Artistic Director.
Space is limited – only 50 tickets for each event.
Single Evenings $30
Three-evening Subscription $75
Four-evening Subscription $95
OPEN REHEARSAL WITH OUR STRING QUARTET
Tuesday, May 22, 2018
6:30 – 8 p.m.
The Scotch Lounge
700 12th Street, NW
Sit in on a live rehearsal by our quartet as they learn and prepare works for our June season. Claudia Chudacoff, violin, Sally McLain, violin, Derek Smith, viola, Sean Neidlinger, cello
All current donors receive two complimentary passes!
Photo by Eduardo Patino.NYC
THE ART OF PARTNERING
An Evening with Luz San Miguel and Davit Hovhannisyan, Dancers
Thursday, June 7, 2018
6:30 – 8 p.m.
The Scotch Lounge
700 12th Street, NW
Join Madrid-born Luz San Miguel and Armenian-born Davit Hovhannisyan for an evening about their life in dance from their early years in their native countries to the US. Principals with Milwaukee Ballet for years, Luz and Davit have danced with Chamber Dance Project since its first Washington performances. Partners on and offstage, they have been featured in pas de deux such as Journey and Berceuse by Diane and in guest choreographers' works. Luz also serves as a Ballet Master for both companies responsible for rehearsing the repertoire of many choreographers. Come join a lively evening of photos, videos, and conversation with two of the company's most versatile and poignant performers.
Photo by Eduardo Patino.NYC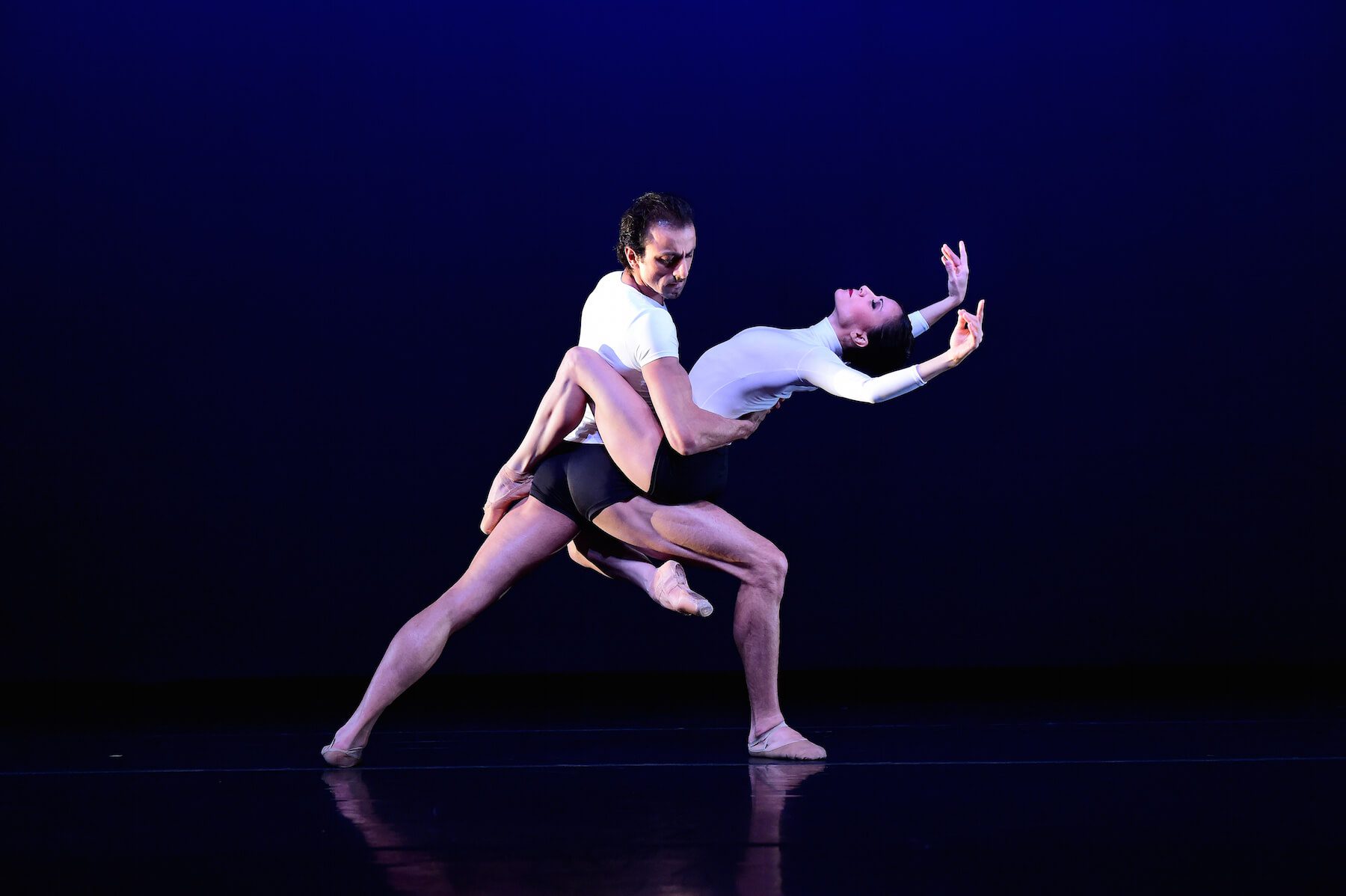 PREPARING FOR A ROLE
An Evening with Patric Palkens, Dancer
Wednesday, June 13, 2018
6:30 – 8 p.m.
The Scotch Lounge
700 12th Street, NW
Born in Boston and now back with the Boston Ballet, Patric has already had an international career in between. Join us for an evening with one of our most powerful and versatile dancers who in just one year has become a favorite in roles from one of the cowboys to the butler in Songs by Cole and an explosive improvision in Rue Noir. Patric will share his background and thoughts on how he approaches his work in the studio both in creating with a choreographer and in learning a new role.
Photo by Peter Mueller
A VALENTINE IN STRINGS
With Chaerim Smith, Violinist,
and Derek Smith, Violist
Monday, February 5, 2018
6:30 – 8 p.m.
The Scotch Lounge
700 12th Street, NW
Between them, these Chamber Dance Project musicians have performed in settings ranging from the Kennedy Center to Carnegie Hall, and played and worked with artists as diverse as Pinchas Zukerman and Barry Manilow. The focus is more intimate in this pre-Valentine's Day evening: just the two of them.
In performance and conversation, they use music to trace significant milestones in their individual careers and their life together as a performing couple.
Thank you to those you joined us for
AN EVENING WITH THE DANCERS
Open Rehearsal
Thursday, January 4, 2018
Step into the studio for an open rehearsal and a wonderful opportunity to connect with the company's dancers and their working world. Get insights into the processes of both performers and choreographers as Diane Coburn Bruning offers a preview of her latest ballet and Andile Ndlovu shares an excerpt from a new trio he is creating.
Current donors (since July 1, 2017) will receive two complimentary passes to this evening and do not need to purchase tickets.
(Photo: Eduardo Patino.NYC)
Thank you to those you joined us for
AN EVENING WITH
CLAUDIA CHUDACOFF,
VIOLINIST
With pianist Kathryn Brake
Monday, December 11, 2017
Chamber Dance Project has been fortunate to have Claudia Chudacoff as the company's principal musician for the past four seasons. Currently playing full-time with the National Symphony Orchestra and concertmaster of the National Gallery Orchestra and the Alexandria Symphony, her artistry as a performer and music educator places her in the ranks of the area's top musicians. She discusses her career—and the joys of working onstage with dancers—in a program that also includes duets with pianist Kathryn Brake, a noted chamber music player and recitalist.
Thank you to those who joined us for
Special Giving Tuesday Event
CABARET NIGHT:
SONGS BY COLE
With jazz duo
Lena Seikaly and Barry Gurley
Tuesday, November 28, 2017
Our third annual Giving Tuesday event spotlights Songs by Cole, the stylish and seductive celebration of the beloved Broadway composer that captivated audiences when it premiered in 2017—and that will return next season. A presentation highlighted by video clips offers a behind-the-scenes look at the process of the ballet's creation—from choreography to costume design to musical arrangements. Singer Lena Seikaly and pianist-singer Barry Gurley reprise Porter classics they sang on stage, and Diane Coburn Bruning teaches some of the cowpoke dance moves that made "Don't Fence Me In" an uproarious audience favorite.
*Location to be confirmed pending construction completion
Thank you to those you joined us for
AN EVENING WITH
DIANE COBURN BRUNING,
ARTISTIC DIRECTOR
Thursday, November 9, 2017
Artistic Director Diane Coburn Bruning discusses ballet's development from the courts of Europe on to the Romantic and Classical periods through Diaghilev's Ballet Russes and to our contemporary forms. A lively and interactive discussion accompanies the presentation during which Diane will also discuss her own creative process, and announce plans for the 2018 season.
Thank you to those you joined us for
AN EVENING WITH
SEAN NEIDLINGER, CELLIST
Thursday, October 26, 2017
After two seasons, Sean Neidlinger has become an integral member of Chamber Dance Project's string ensemble. Hear this prize-winning cellist discuss his experiences in playing for dance, his professional passions, and a career that includes work with notable national and regional chamber groups and orchestras. The evening's performance includes Benjamin Godard's hauntingly beautiful music used in Diane Coburn Bruning's duet Berceuse.
Header photo by Sheila Smith